Customer Experience research reporting
Research panel, alerts, dashboards, regular reports
Your company has implemented a number of studies embedded in the key points of contact with the brand. Customers willingly share their opinions and YourCX tool supplements declarative data with an additional context of behavior. What now?
Customer Experience research is easy to implement, but what's the most complex is the effective use of acquired knowledge with measurable results. In order to reach clear conclusions, researchers must face a considerable challenge, which involves searching for additional contexts and significant correlations. Reasons for negative assessments may be sought by placing the customer's assessment in the context of his or her paths, sources of visits, and actual behaviors. The first conclusions can be obtained even by simple segmentation of cohorts, e.g. by objectives with an analysis of the ease of their implementation. However, this is only the tip of the iceberg.
By deepening our knowledge, we are able to understand changes in research results in relation to previous weeks, months and quarters. On the other hand, based on conversion rate analyses, it is possible to investigate what specific customer problems affect the reluctance to finalize the purchase. On this basis, the company plans budget expenditures where it will bring the best results, and the customer who makes the purchase without any problems will be satisfied with the service and will gladly return, telling his friends and family about positive experiences.
Three levels of reporting
YourCX tools and services support companies throughout the entire analytical process: from the study of individual problems, through trend analysis, to conclusions based on the impact of experiences on finances. Different teams are often involved in the subsequent stages, and the management will be interested in the conclusions and general trends. So how to plan the reporting cycle properly?
We distinguish three levels of Customer Experience research results analysis:
Operational, concerning optimization of conversion and solving current problems;
Tactical, focused on analyzing the behavior of groups of customers and examining trends within the last few months;
Strategic, related to general observations and market comparisons.
YourCX has developed a set of tools and services to help companies analyze their performance, taking into account the needs of those involved in the experience optimization project at every stage of reporting. Let's discuss each of the main areas facilitating such activities.
Alerts and notifications
A good way to start is to implement e-mail alerts in the organization. This will help each researcher, developer and content maker in the ongoing operational work on optimization of experiences.
A defined alert informs the recipient of the phenomena that meet certain conditions. For example, a person responsible for the content of product descriptions on an e-commerce website will receive a signal in the mailbox if problems with descriptions are reported. In the case of a large amount of data, the conditions may be additionally narrowed down, for example, only to those reports that contain an open answer, or to those that are associated with a low probability of recommendation (NPS indicator).
In addition to problems with descriptions, we also suggest creating alerts at other specific angles, including:
problems with establishing contact with customer service;
insufficient or outdated content in the help sections;
critical technical errors in the purchasing process;
problems with searching for products;
or any other business-relevant situations.
Those responsible for the order preparation, logistics and delivery process may also receive notifications in the context of these events. Similarly, with the optimization of experience in stationary facilities (sales and service points), regardless of where and how the research is conducted, any scenario can be created on the basis of collected data.
Alerts will also work well in the case of open responses in which the respondent leaves his or her e-mail address or telephone number. It happens that respondents treat Customer Experience surveys as a method of establishing contact. They expect an answer. These are often requests for help in cases where the previously available ways of obtaining support have been exhausted. The YourCX system automatically detects such messages and transmits them to the appropriate person for verification. Thanks to this, negative experiences can be turned into positive ones, and critical Detractor can be turned into a persistent Promoter. All you need to do is to react.
Notifications can be sent at regular intervals or immediately after an event occurs.
Dashboards
Desktops aggregating the most important results and trends are called dashboards. They will work well in the context of tactical and strategic reporting.
The dashboard presents the most important quality indicators at different points of contact. Giving weight to individual areas and results will enable the creation of clear rankings so that their recipients keep focused on the most important areas. Preview of the latest open responses with the option of filtering by the subject of the report enables the immediate reaction to difficult situations reported by respondents.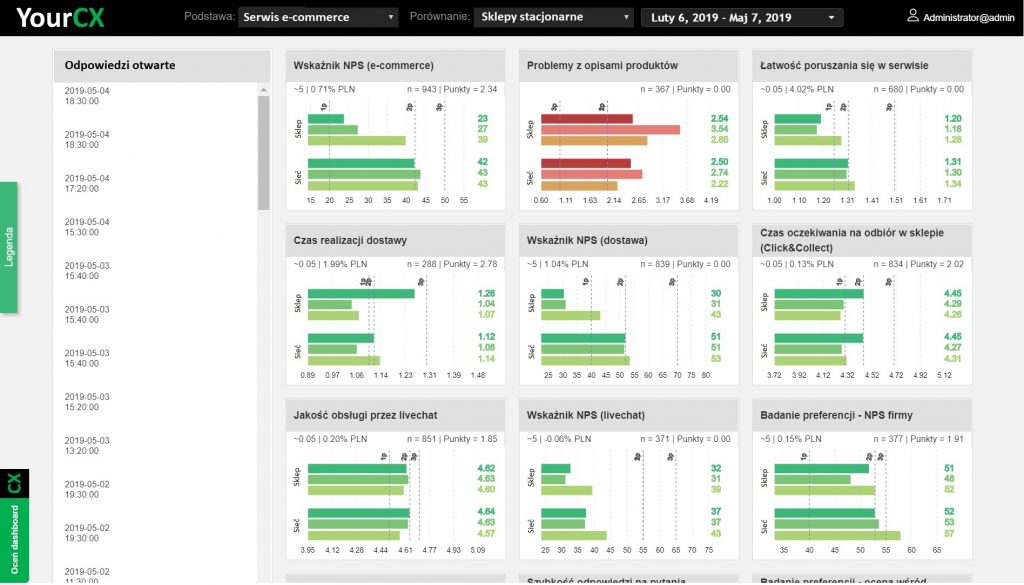 Each dashboard is prepared individually according to the needs, specificity of the industry, and business goals of the partner. YourCX can offer separate views for the needs of employees at different levels, therefore it is possible to prepare general views summarizing only the most important trends in terms of strategic reporting for the members of the management board, directors or the CEO of the company.
Cyclical reports
The basic method of reporting is cyclical reports – monthly, quarterly and annual. They are prepared by the YourCX team of experts and include their comments on current research results. Such a report is used in both operational and tactical work.
These reports usually cover the full scope of research, but the level of detail of analyses and recommendations is determined individually with each client. These reports are often supplemented with benchmarks (comparisons with the market) and summaries at different levels of detail, hence they may also meet needs at the strategic level (the management board or director may also receive its fragment containing the most important observations).
A constant element of such a report is a comparison of changes in results over time and an analysis of trends and correlations. It also includes behavioral observations related to the YourCX platform capabilities and the scope of research itself. All issues related to conversion or advanced segmentation are checked by a team of specialists.
Area reports
Area reports, the scope of which is slightly narrower, will mainly meet the needs in the course of operational and tactical work.
Area reports may be related to, for example:
Sales processes in e-commerce, i.e. all the points of contact connected with browsing, searching and buying online;
Customer Service, from research on the help section of the website and ease of contact with the Customer Service Centre to livechat, e-mail or telephone support processes;
Logistics, i.e. the processes of delivery and receipt of products;
Market preferences, where we summarize all research and questions concerning consumer preferences and behaviors, as well as their perception of direct competition.
Area reports touch on a narrower section of research, which gives YourCX analysts the opportunity to explore data deeper than in the case of cyclical reports.
YourCX analysis panel
Original administrative panel for managing results will help you analyze data on both operational and tactical levels.
You can use YourCX panel to review research results, as well as to conduct in-depth analyses of current needs and to prepare reports. You will have at your disposal a number of specialized analytical tools, thanks to which you will deepen your knowledge about the experiences of respondents.
Visit this page to learn more about the capabilities of our survey management analytics system.
Our Clients praise our professionalism and flexible approach in the implementation of CX research projects. Choose the service package that suits your needs and see for yourself!